The following is an excerpt from our latest Idle Speculator, in which we interview economist Diane Macunovich about age structure and its effects on employment, GDP, asset prices, interest rates, and inflation. The full interview (pdf) is available here: http://symmetrycapital.net/idlespeculation/20100721_interview_macunovich.pdf
—
Could the pronounced shifts in age structure caused by the baby boom cohort in many nations have been a primary cause of the economic volatility and inflation of the 1970s, or the 'Great Moderation' of the 1980s and 90s? If so, what are the implications for widely held assumptions and longstanding disagreements regarding appropriate economic policy? And what are the implications for emerging economies, interest rates, inflation, or expected returns on various asset classes in the years ahead?
Regular readers of our website know that since 2008-2009, we've become fascinated by demographics, specifically the underlying age structure of a population, as a key factor in economic and financial market outcomes. We think it's a powerful domain of knowledge for a couple of reasons. First, empirical studies support the idea that age structure can have significant and far reaching effects in economies, markets, and other areas of social interest. And second, very few people in the investment business have paid attention to recent developments in the field (though strategist Ajay Kapur is a notable exception).
As Exhibit A, we present the following Amazon Bestsellers Ranks: Birth Quake, an essential primer on age structure, is currently ranked 1,851,062nd. This Time Is Different, by Ken Rogoff and Carmen Reinhart, one of our industry's current "must reads," is ranked 96th. Yet we humbly submit that reading Birth Quake and related research on age structure offers much greater value to investment strategy and public policy in the years ahead than Reinhart and Rogoff's work. More value in a book that ranks 1.8 millionth versus one that ranks 96th. That's a situation that contrarians of all political stripes should love!
Economist Diane Macunovich, the author of Birth Quake, kindly agreed to an interview with Symmetry Capital Management (Macunovich: soft a, hard c, soft u, accent on "un"). Diane holds a Ph.D. and an M.A. in Economics from the University of Southern California, and completed her undergraduate studies at MIT. She has worked as a consultant, a researcher, and an educator, and is currently a Professor at the University of Redlands in California, and a Research Scholar at the Institute for the Study of Labor (IZA) in Germany. Her full curriculum vitae (.doc) and publications list are available online.
Excerpts from our interview follow. We believe investors should pay especially close attention to her less-than-bullish outlook for the U.S. economy and financial markets in the years ahead:
DM: I was working in the 1970s and 1980s as an economic consultant for developers and municipalities in Canada, often conducting housing market analyses, and realized there were tremendous effects of the post-WWII baby boom on housing demand. I was able to predict, for my clients, the housing slump that occurred in the late 1980s and early 1990s. That led to work on a PhD. and a great deal of subsequent research in the area.
As an example of the magnitude of the baby boom's effect, a 2007 study of mine found that the passage of the U.S. baby boom from childhood through the teen years and into family formation caused marked swings in patterns of aggregate consumption demand in the United States during the second half of the twentieth century. Applying that study's estimated age-group effects to time trends of national U.S. population age structure suggested that, holding other factors constant (including income and total population size), baby boom-generated changes in age structure accounted for swings of about 25% in real aggregate personal consumption.
It is important to work with fairly small age groupings – to divide the population into a fairly large number of age groups – in order to allow for effects which may vary significantly, even between age groups that are fairly close…Time patterns of changes in these smaller age groups can be quite pronounced, whereas changes in larger aggregates such as the total adult population, or median age, move only very gradually and can be difficult to relate to any economic effects. In my own work I have found that it is most advantageous to focus on young adults in the household formation stage: the growth rate of their population share, and their numbers relative to older prime age adults.
A significant portion of the growth in demand in the economy comes from new household formation. Some of this new household formation will result from immigration, but the vast majority of it results from young adults leaving their parents' homes and forming their own households. Historically over the twentieth century that has been the 15-24 age group. They generate additional demand for housing and consumer durables including automobiles. They also, obviously, generate significant educational expenditures. If there is growth in this segment of the population, there will be overall growth in consumption. Similarly, rates of growth in consumption will fall with declines in the growth rate of this significant group.
In general, I use the growth rate in the population share of this age group (15-24), in examining effects on GDP. I wouldn't try to actually forecast GDP with this variable, but rather use it to indicate points where it's likely that there might be a reversal in GDP growth.
I think it's a major shortcoming of most economic models that they omit demographics. The swings that I just mentioned could have been projected as much as twenty years earlier if demographics had been used. And the beauty of demographics is that current birth rates provide us with so much information for projecting future patterns.
SCM: Although much of your work focuses on first and second order effects of changes in demographic composition, you have also done some interesting research on third order effects like asset prices, interest rates, economic growth, and inflation, which are clearly relevant for investors and financial markets. What are some of the key insights you've developed into those effects, and how might an investor put them to use in decision making?
DM:The curve on the graph represents a three year moving average of the (one year) lagged annual rate of change in the proportion of young adults in the U.S. population, as reported by the U.S. Census Bureau. "Young adults" are defined as those aged 15-19 prior to 1950, and 20-24 in the years after, given changing levels of education. The vertical lines mark the start of recessions, as defined by NBER. There is a very close correspondence between the vertical lines, and peaks in the curve, as well as points where the curve goes negative.
I have found a very significant relationship between the growth rate of the population share of young adults, and the incidence of recessions, over the past 110 years.
Figure 1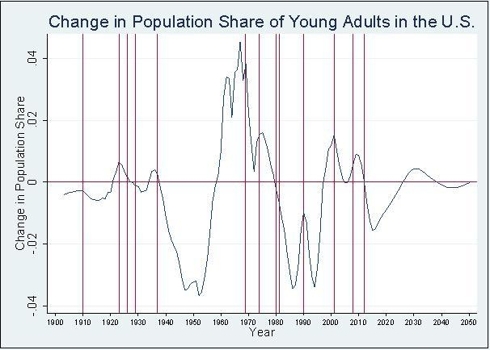 Globally over the past 50 years, 80% of such demographic declines have been associated with declines in GDP growth. This is true whether one looks at countries' own demographics, or at the relationship between their economies and U.S. demographics. Over 50% of the time, globally, there has been a direct one-to-one correspondence between turning points and outright recessions.
It should be noted that I'm not saying that only demographic effects are at work in these cycles. Rather, I believe that the demographics determine when the crises happen: the straw that breaks the camel's back. The magnitude of crises and recessions has to do with a host of other economic and institutional effects.
The relationship shown in the previous graph is bolstered by the pattern observed in Japan in recent decades in Figure 2. One can see there the remarkable decline in the growth rate of this crucial 20-24 age group that corresponded with Japan's "lost decade".
Figure 2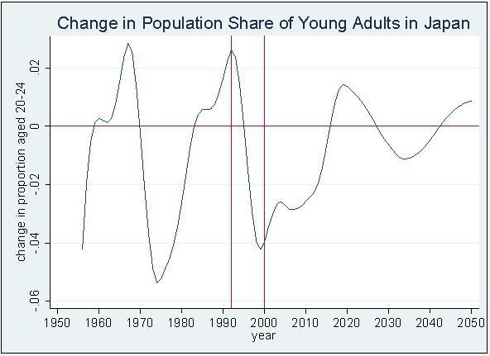 As you can see in Figure 1 for the U.S., the growth rate in the share of this crucial population of young adults will turn negative in 2012, and then remain negative until the late 2020s. This would suggest another recession around 2012 (unless, of course, economic actors were to recognize trends ahead of time, and act accordingly!), and then possibly a period of very slow growth thereafter. In terms of the stock market, I've prepared projections for various moving averages of the DJIA, based on the changing overall population age structure (not just the young adults). They also do not bode well for the next ten years, suggesting a long period of bear markets until the early 2020s, similar to what we saw in the 1970s. The period after that should begin to be more buoyant, however. 
SCM: One interesting feature of Japan's "lost decades" was that an increasing number of young adults chose to live with their parents, possibly due to the difficulties many of them had finding permanent employment. Empirically, it looks like the U.S. has entered a period where permanent employment is much harder to come by for young adults, with the 16 to 24 year old unemployment rate at levels not seen since the last of the baby boomers entered young adulthood (Figure 3). And anecdotally, we've been seeing more stories in the press and in our personal lives about young adults, especially recent college graduates, moving back home while they look for a first career. Is it reasonable to expect that new household formation in the U.S. could be stagnant in the coming decade, much as it was in Japan?
DM: I definitely believe new household formation will be stagnant. We just reached the peak growth rate of the proportion aged 18-20, and although their growth rate is still positive, it's counteracted by the high unemployment inflicted on them by the recession. By the time the economy recovers and unemployment has declined for this age group, we'll be into a long period of declining growth rates among those in the household formation stage. So even if they don't move in with Mom and Dad, there will be fewer of them to replace the disappearing baby boomers… [B]ecause of the low birth rates we've seen since the 1980s, nearly all industrialized nations are facing declines in the young adult age group by about 2012-2015. Nearly all the former Soviet block countries, and many South American countries, are already into negative growth rates in this crucial age group's share, as you can see from the graphics in one of my working papers for IZA (pdf).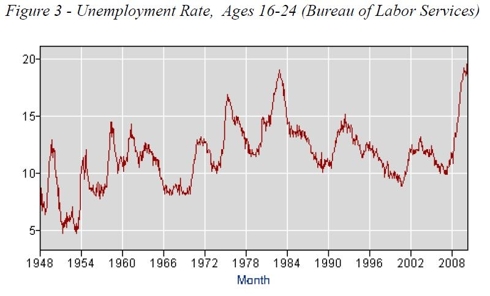 SCM: Clearly, this is powerful stuff for investors, and it raises some challenging questions, for example: Can we confidently model economic or asset return expectations without taking into account the massive dislocations caused by age structure in the twentieth century? Should we really be concerned about inflation or rising interest rates in the coming decade? Is age structure a more important variable (at times, at least) than the economic policies we all love to debate? And if slow to no growth is likely to be the norm in the years ahead, what public policy measures are most appropriate — especially when you consider that we're also in the midst of a household balance sheet recession?
The complete interview (pdf), with additional insights into the relationships between age structure, economic growth, credit cycles, asset prices, and inflation is available on our website. Thank you Diane!

IMPORTANT DISCLOSURES: Symmetry Capital Management, LLC ("SCM") is a Pennsylvania registered investment advisor that offers discretionary investment management to individuals and institutions. This publication is for informational, educational, and entertainment purposes only. It is not an offer to sell or a solicitation to buy securities, or to engage in any investment strategy. SCM earns a revenue sharing commission for qualified 'click through' purchases from Amazon.com's website. Any mention of investable companies and/or securities is incidental and for illustrative purposes only. Neither the firm, its clients, or its principals own securities issued by Amazon.com.