Barron's cover story this weekend urges Fed Chairman Ben Bernanke to stop punishing savers and raise the Fed's target overnight interest rate. To support their case, they use an array of market indicators, including the US Dollar index and the USD price of gold, arguing that "big investors have come to see the dollar, commodities and stocks as one-way bets." A dramatically titled sidebar of charts ('The Perils of Easy Money') is provided, but beyond the rising price of gold, there's nothing in them that offers primae facie evidence of either easy money or impending inflation.  Yes, the USD has declined almost 15% from its peak, but at current levels it is simply back to where it was at the end of 2007 and beginning of 2008. And while the S&P 500 has had a breath taking run off of its March 09 lows, it's still roughly 20% below its peak.
What's more, there's little about the real U.S. economy that argues for higher nominal interest rates, and inflation (and deflation) can only arise from a misalignment of the financial system with the real economy. There's still a considerable amount of private sector debt to be worked out in the coming years and decades; excessive household consumption has run its course; and U.S. demographics do not imply a high or rising 'natural' rate of interest in the decade ahead. In fact, based on that latter point, we can sympathize (out of context) with Milton Friedman's 1965 claim that "we are all Keynesians now", as research into population demographics and their effects on economic output and asset pricing has produced some powerful (if tentative) insights. At the present time, the U.S. is simply not at a point where, demographically speaking or policy-wise, a low nominal rate of interest on overnight reserves is likely to produce rising asset prices or "excess demand" for goods and services in the same way that it did in the late 1970s. And for that reason, increasing investment in public goods, as many of today's policymakers advocate, might be a good idea. It might even be inevitable, judging by the experience of Japan, a country ten years ahead of us on the demographic curve. At the very least, we can hope it will be done well (Art Laffer penned a supply side refutation back in May but did not address his underlying assumptions of perfect competition for — and full employment of — real resources).
The real problem with a low Fed Funds target, as we have pointed out previously, is that the USD is still the world's primary reserve currency. Thus, while a low Funds rate might be appropriate for the U.S. economy, it can have inflationary consequences in parts of the world that have higher expected growth rates (the reverse can also happen, as it did in the 1990s – while a high funds rate and a strong dollar seemed appropriate for the U.S. economy, they wreaked deflationary havoc on much of the world). Rising prices for goods that are globally traded, and thus subject to the Law of One Price, will feed back into domestic U.S. price levels, providing a noticeable whiff of stagflation, much as gold, precious metals, and other commodities are doing now.  The global pressures caused by an easy Fed are also going to cause plenty of political consternation and some financial dislocation abroad, as recent salvos from global trading partners over the USD attest to. But we don't expect broader inflationary pressures to unfold in the U.S. for quite some time, nor do we expect Congress to even entertain the possibility of revisiting Humphrey Hawkins; which means, in our view, that the Fed will remain easy for some time, probably well into 2010. In the meantime, should the USD continue its current trajectory, we might see some coordinated global interventions, as we did with the Plaza and Louvre Accords in the mid-1980s. But in those episodes, national treasury departments played the lead roles, not central banks.
There are also a couple of Investment News articles that illuminate some of the beefs we have with our industry. The first one is on a Morningstar study that found that over half of all mutual fund managers have no money in their own funds. There are some legitimate reasons why a percentage of mutual fund managers would not own shares of their own fund — but that percentage should be waaaaay below 51%. That's bad enough, but what really stuck in our craw was the speculation that some fund managers might have their money in separately managed accounts that follow a similar strategy as their mutual fund, as they tend to offer lower expenses (they also offer greater transparency, potential tax advantages, and opportunities for customization). If we ran our Opportunistic Portfolio as a mutual fund, our firm's principals and employees would own it as a mutual fund, period. As it is, we only offer it as a separately managed account, because that is a more advantageous approach for most investors, and because technology has made it possible for us to offer separate accounts to all of our clients (it's also a heck of a lot cheaper than forming a mutual fund). I know this stuff goes right over most of our clients' heads when we try to explain it. Suffice to say, we're trying to do right by them, and by our industry, on each and every day, and we appreciate stories like this one as they lend support to a key piece of our competitive strategy.
The second article is somewhat innocuous, but offers a glimpse into the prevalence of momentum trading in our business, and the general fascination with market momentum. It quotes a large cap manager at ING as saying that "There does seem to be something unorthodox about [current equity market behavior], but you ignore it at your own peril." That's not an objectionable statement, but the article's headline was a bit stronger: "Market rebound may be illogical, but 'ignore it at your own peril,' manage of $1.7B warns". Surely a similar thought occurred to each of the 20,000 bison shepherded off of Vore over the eons: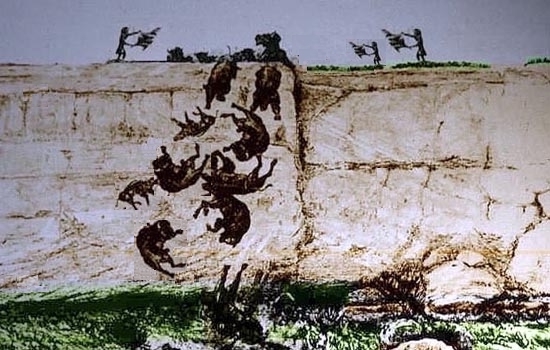 [The site hosting that image is pretty neat - you can read a history of bison and horses on the Great Plains while authentic cowboy/saloon music plays in the background.]
Our beef with momentum investing is that it rationalizes away everything but herd direction. If a manager buys momentum because the underlying investment thesis makes sense, there's nothing wrong with that. But buying momentum for its own sake is the height of glamor boy laziness and stupidity. There's too much of it in our business, and it contributes precious little to the economies and societies we operate in.
[The 'glamor boy' link will be nostalgic for anyone who was watching MTV in the late 1980s. While it's hard to take Corey Glover's claims of ferocity seriously while he's wearing a spandex suit and a marching band jacket, it's still a great song.]
URLs:
http://online.barrons.com/article/SB125573856421291217.html?mod=rss_barrons_this_week_magazine
http://s.wsj.net/public/resources/documents/BA-EasyMoney091019.pdf
http://www.frbsf.org/publications/economics/letter/2003/el2003-32.html
http://www.time.com/time/printout/0,8816,842353,00.html
http://economics.uwo.ca/econref/WorkingPapers/researchreports/wp2009/wp2009_2.pdf
http://frank.mtsu.edu/~berc/tnbiz/stimulus/laffer.pdf
http://www.investmentnews.com/apps/pbcs.dll/article?AID=/20091019/FREE/910199975/1094/INDaily01
http://www.investmentnews.com/apps/pbcs.dll/article?AID=/20091019/FREE/910199982/1094/INDaily01
http://www.wyomingtalesandtrails.com/buffalojump.jpg
http://www.youtube.com/watch?v=7XRpuhc9dgU